SCORPION SII-2212-960KV (V2)
Scorpion Competition Series Brushless Motors are built from the best materials available, and are designed to provide both quality and performance at an affordable price. The new SII-22 series motors are an updated and improved version of the popular S22 motors that have been so successful. Scorpion starts with high quality aluminum alloy parts that are produced on the latest CNC milling machines. These parts are then gold Electro-Plated to provide a beautiful, long-lasting finish. The stators are made with 0.2mm laminations to give maximum efficiency, and minimum Eddy current losses. The stators are epoxy coated to prevent shorts, and are wound with wire that is rated at 180 degrees C (356 F). The magnets used in Scorpion Motors are custom manufactured to be able to withstand temperatures of up to 200 degrees C (392 F).
All Scorpion 22mm motors come with 3.5mm male Bullet style connectors already attached, and include a complete hardware package that contains the following: 3 matching female Bullet connectors for your speed controller, a cross style back plate mount with 4 screws, and a threaded shaft prop adapter.
Scorpion Motors are built to last, and are backed with a 2-Year warranty against defects in materials or workmanship. For the best overall combination of quality, performance, and value, gives Scorpion Motors a try!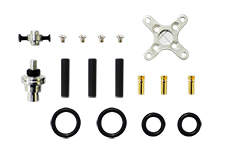 Specifications
| | |
| --- | --- |
| Stator Diameter | 22.0 mm (0.87 in) |
| Stator Thickness | 12.0 mm (0.47 in) |
| No. of Stator Arms | 12 |
| Magnet Poles | 14 |
| Motor Wind | 22 Turn Delta |
| Motor Wire | 4-Strand 0.21mm |
| Motor Kv | 960 RPM / Volt |
| No-Load Current (Io/10V) | 0.51 Amps |
| Motor Resistance (Rm) | 0.139 Ohms |
| Max Continuous Current | 13 Amps |
| Max Continuous Power | 192 Watts |
| Weight | 58.0 Grams (2.05 oz) |
| Outside Diameter | 27.9 mm (1.13 in) |
| Shaft Diameter | 2.98 mm (0.12 in) |
| Body Length | 30.0 mm (1.18 in) |
| Overall Shaft Length | 49.0 mm (1.93 in) |
| Max Lipo Cell | 4s |
| Motor Timing | 5deg |
| Drive Frequency | 8kHz |
Included in the Box
1 x Scorpion SII-2212-960KV Motor
1 x Scorpion 22mm Cross Mount
1 x Scorpion 3mm Threaded Prop Adapter
3 x Female Connectors
3 x Heat Shrink
4 x M3 Screws
Weight including packaging
196.8g
Data Chart
VIEW SCORPION SII-2212-960KV (V2) DATA CHART
Full Dimension
Dynam Carbon Fiber Electric Props
Description:

Dynam High Quality Carbon Fiber Electric Props. These props are durable and light, making them the ideal choice for your electric plane.

Available Sizes:
9x6
14x7
15x6
16x12
17x12


Features:

High Quality Carbon Fiber Weave
These carbon fiber propellers have been manufactured with very high standards.
Extremely light and strong with ultra thin and stiff carbon construction.
The center hole is 9mm and comes with a series of adapters to convert this all the way down to 3mm in 1mm increments.
The hub can also be reamed out safely to around 14mm.




Pulse Ultra PLC100 AC/DC Multi-Chemistry Smart Battery Charger
Description:
With this Imax B6AC multi charger, you can charge using a battery at the feild or your ac plug at home! You can charge up to 6 cell batteries. It's capable of charging most types of batteries, LIFE LIPO LION (A123) NICAD NIMH ETC

If you have a splitter you can charge 2/3 cell batteries at once (using an adapter)



Specifications:
Input Voltage: DC 11-18V / AC in: 100V-240V 50-60Hz
Circuit power: Max Charge: 50W / Max Discharge: 5W
Charge Current Range: 0.1-5.0A
Discharge current range: 0.1-1.0A
Ni-MH/NiCd cells: 1-15
Li-ion/Poly cells: 1-6
Pb battery voltage: 2V-20V
Weight: 531g
Dimensions: 134x142x36mm
Features:
iMax B6AC 1-6 Cells Digital Multifunctional Balance Charger
100-240v AC input or 11-18V DC input
Microprocessor controlled
Delta-peak sensitivity
Individual cell balancing
Li-ion, LiPo and LiFe capable
Ni-Cd and NiMH capable
Large range of charge currents
Store function, allows safe storage current
Time limit function
Input voltage monitoring. (Protects car batteries at the field)
Data storage (Store up to 5 packs in memory)
Battery break in and cycling.
Package Contents:
iMax B6AC 1-6 Cells Digital Multifunctional Balance Charger
4mm Banana Plug to Male Deans style connector
A female Deans style connector to a pair of Alligator clips
A female Deans style connector to a female Futaba style servo connector
A female Deans style connector female JST style connector
A female Deans style connector to Glow Plug type connector
Power Cord
User Manual